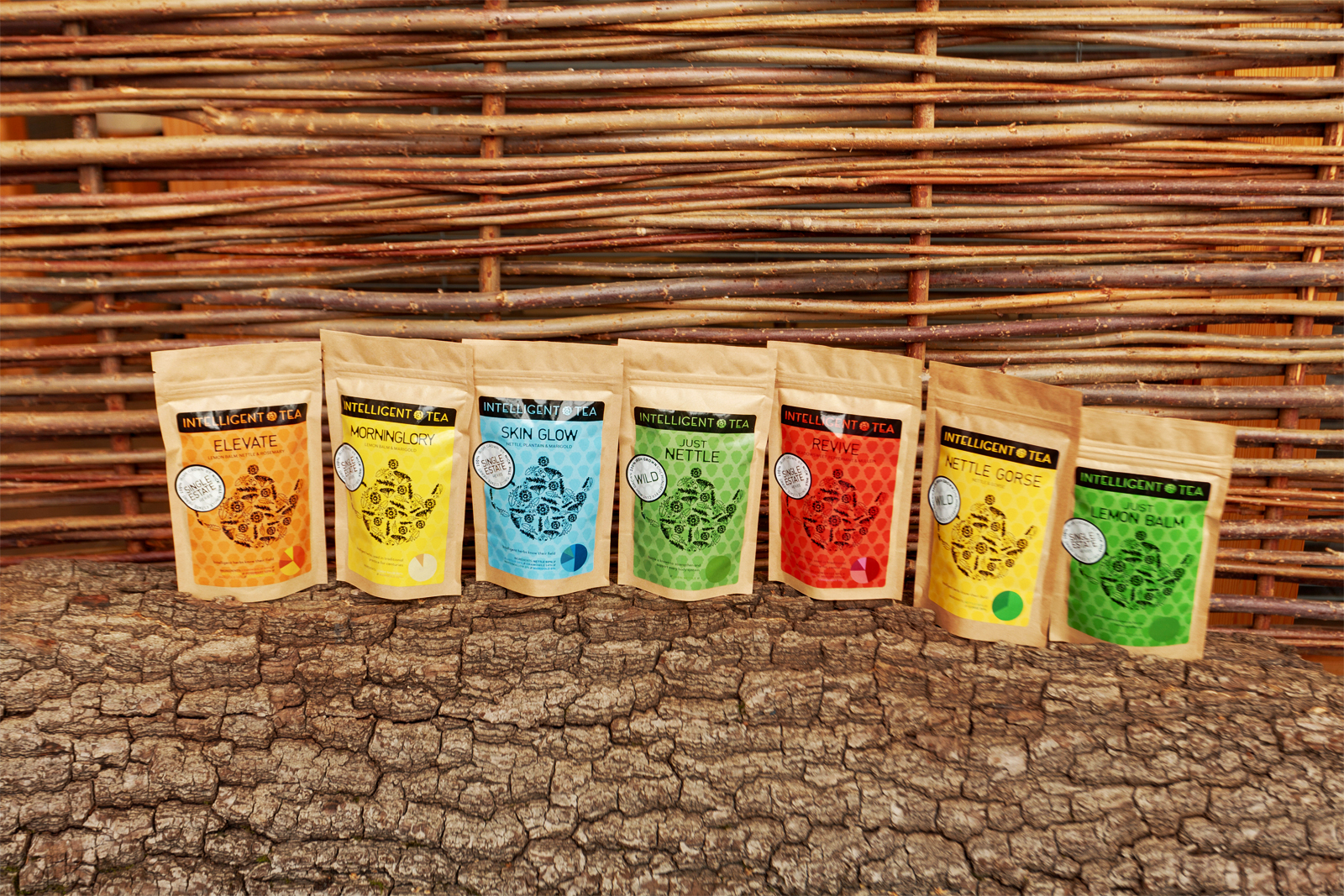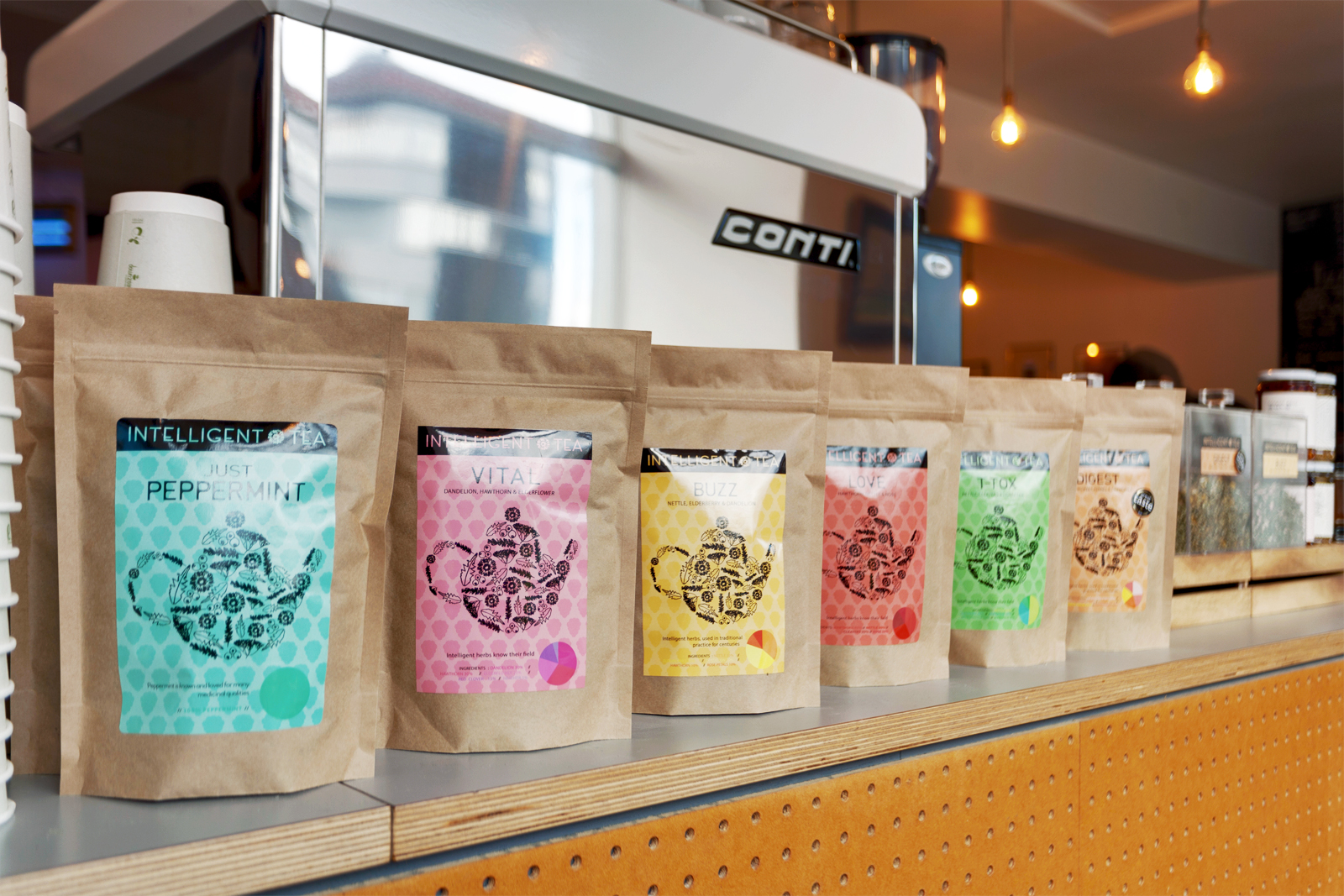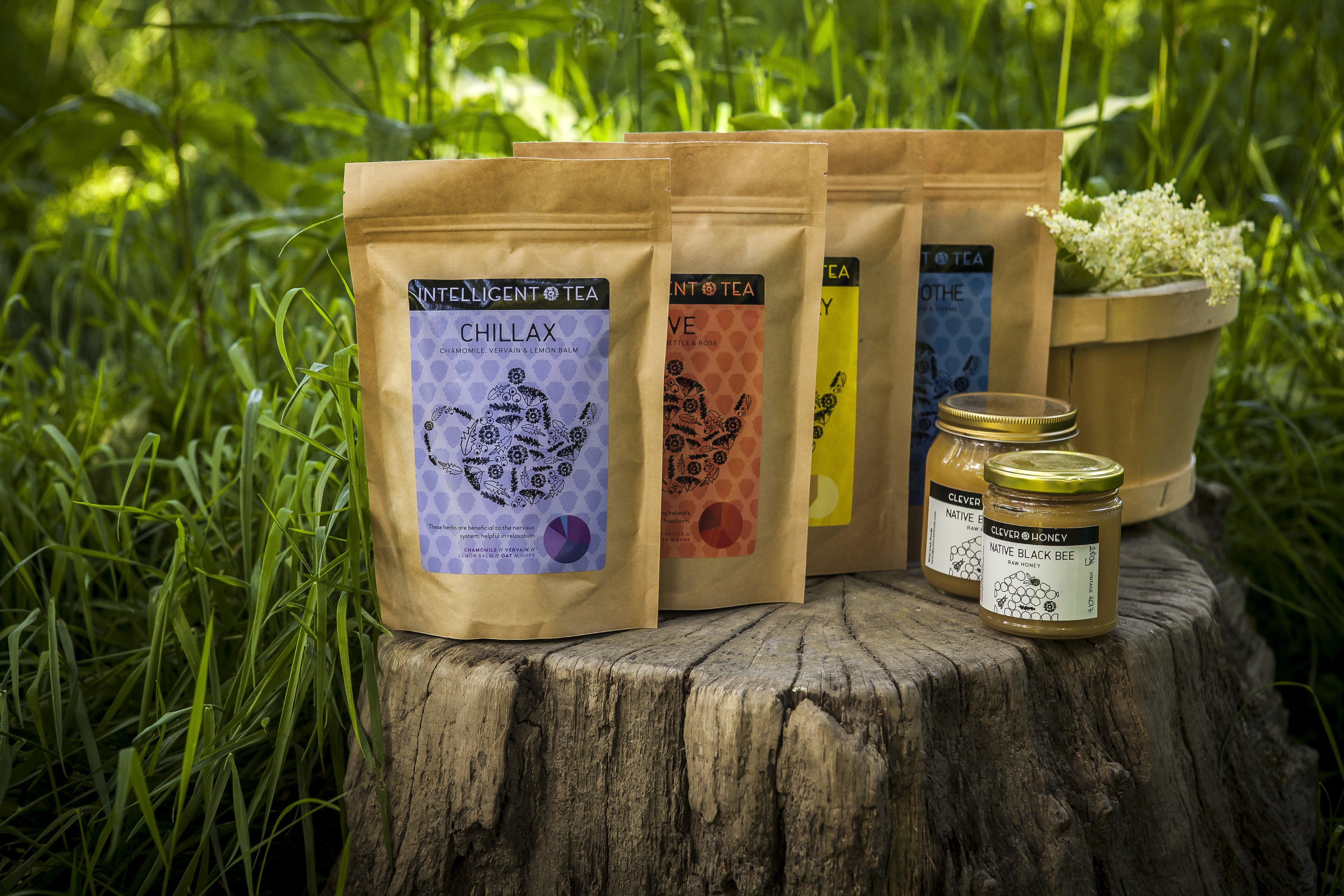 ABOUT
INTELLIGENT TEA
When wild food and organic chef Freda Wolfe went to study natural medicine, she learned that a lot of the tasty plants she used in her dishes were actually full of healing properties too. During the four year Master Herbalist training course she started foraging, drying herbs and making infusions for friends and family to treat common ailments like hangovers, headaches, colds, flus and tummy trouble.
With her natural flair for balancing flavours she was a dab hand at this and her blends proved popular, and effective. Starting out with a tea stall at Temple Bar Food Market in Dublin, Freda met customers every Saturday and over the course of two years responded to their feedback and requirements to develop the range of teas and tisanes.
The 'Intelligent Tea' name was also born at the market stall, as discussions often centred around the 'intelligence' of plants and the wisdom of those who used them like the Ancient Greeks, Romans, Native Americans, Chinese, African's, Mayans and the Irish of course with traditional healers down through the ages, like Biddy Early (1798-1874).
ABOUT
FREDA WOLFE – FOUNDER AND FORAGER
CHEF
A born and bred foodie from the wilds of West Cork, Freda's career as a chef began at Ireland's first organic and wild food restaurant, The Strawberry Tree, Killarney working alongside Evan Doyle (Brooklodge, Macreddin Village)in the 1990's. While training under pioneering chef and Euro Toques Ireland founder, Gerry Galvin, Freda honed her foraging skills collecting wild flowers, hedgerow plants and berries for dishes at Drimcong House in Moycullen, Co. Galway.
MASTER HERBALIST
Expanding her plant knowledge from culinary to medicinal, Freda undertook a four-year course at the Irish School of Herbal Medicine and graduated as a Master Herbalist in 2011.
FORAGER
Freda has Irish grown Single Estate and Wild Foraged blends. In the beginning she picked all the wild plants herself but now as the business expanded, she convinced Irish vegetable growers to branch out and grow wild plants. Along with friends and family, Freda continues to forage for ingredients. Freda sources organiclly grown herbs from mainland Europe and Ireland for the Blended Herbal Brew range.
BEEKEEPER
Freda has been buzzing with the bees since her childhood on the family farm in Ballydehob, West Cork. Having expanded her hobby, she now has native black bee hives dotted around Dublin and Wicklow, producing limited amounts of 'Clever Honey'. Wanting to play her part in the protection of these pollinators, she is a member of both the Dublin Beekeepers Association and the Native Irish Honey Bee Society.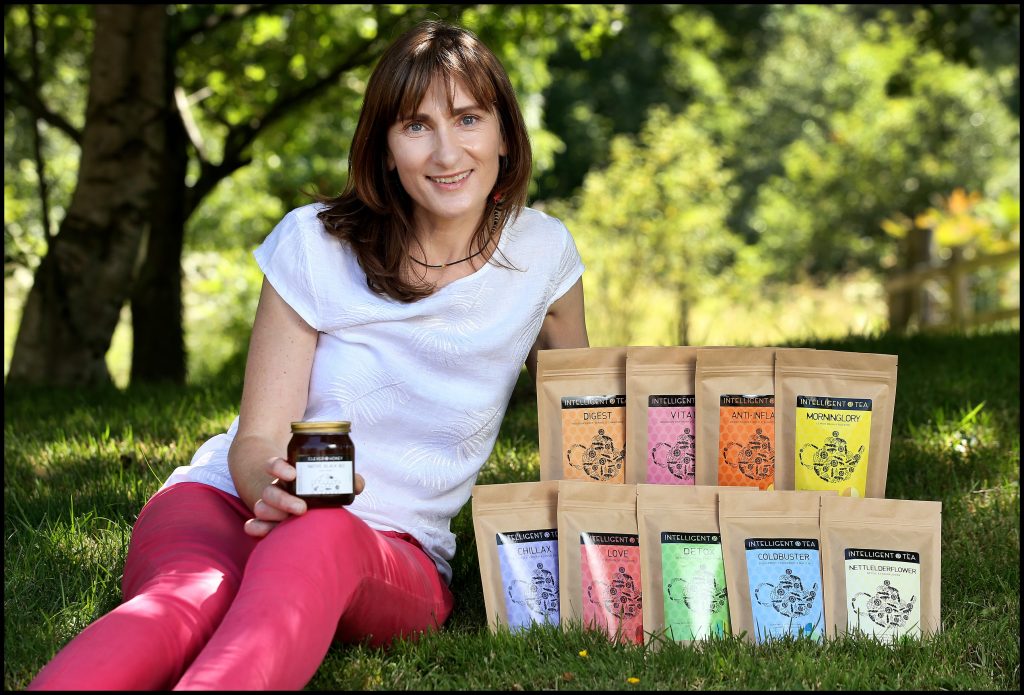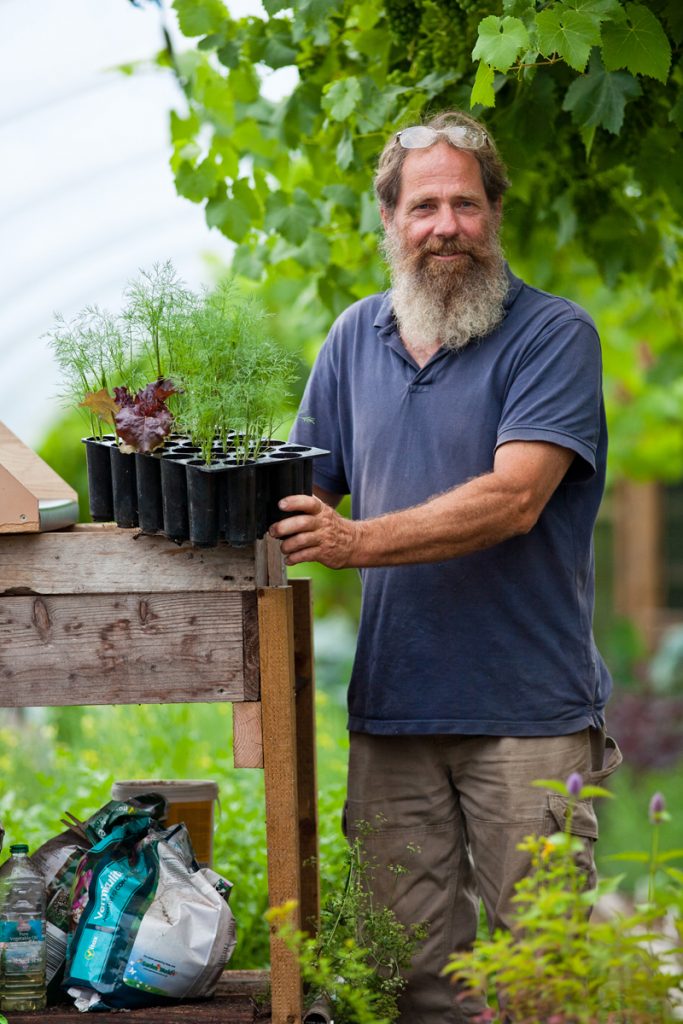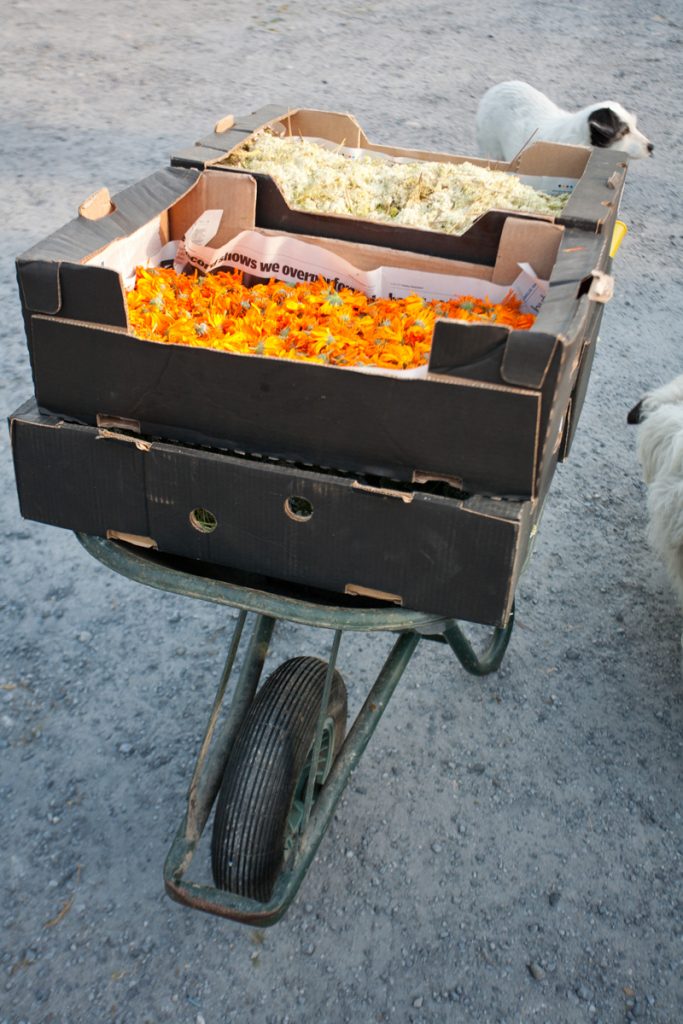 OUR GROWERS
NICK HILL, DRANAGH, CARLOW
On his small holding in rural County Carlow, Nick was growing vegetables and salads for supply to local chefs and a market. And then along came Freda and persuaded him to welcome weeds, herbs and wildflowers into his patch. While many gardeners live in fear of some of these perceived pests, Nick connected with the power of the plants and now grows Nettle, Marigold, Chamomile, Lemon Balm, Meadowsweet, Marshmallow, Mullein, Peppermint, Fennel, Rosemary, Lemon Verbena and Yarrow.
A clever move as it turned out, because he is supplying large quantities to Intelligent Tea. Nick is growing to organic standards.
OUR GROWERS
KILLRUDDERY ESTATE, WICKLOW
The historic Killruddery Estate Gardens, County Wicklow, has been supplying the tea rooms with seasonal vegetables, salads, herbs and fruits. The 4.5 acre high-walled garden is not only beautiful and bountiful, but used as a recreational space for visitors to the estate as well. The aromas of the chemical free gardens are now enhanced with the Peppermint that is growing for Intelligent Tea. And in turn, the beautiful Killruddery environment is lending a stately flavour to some of the Single Estate brews.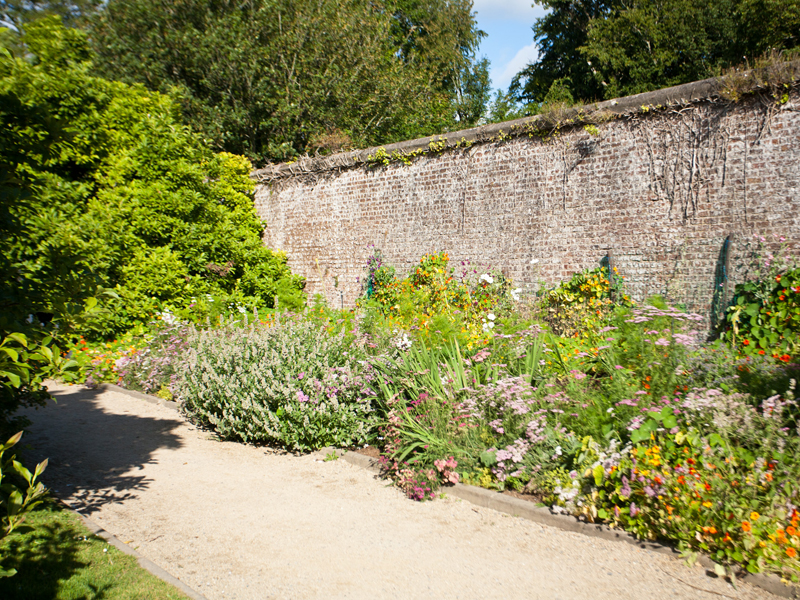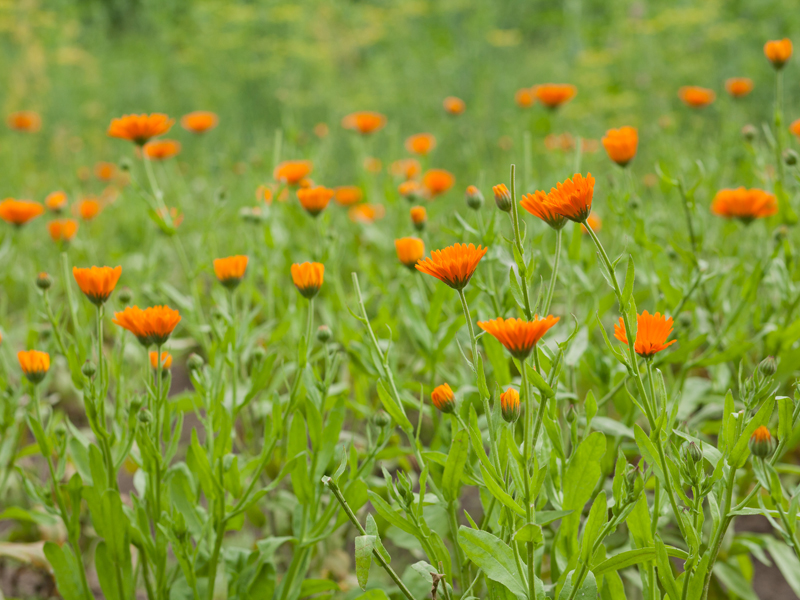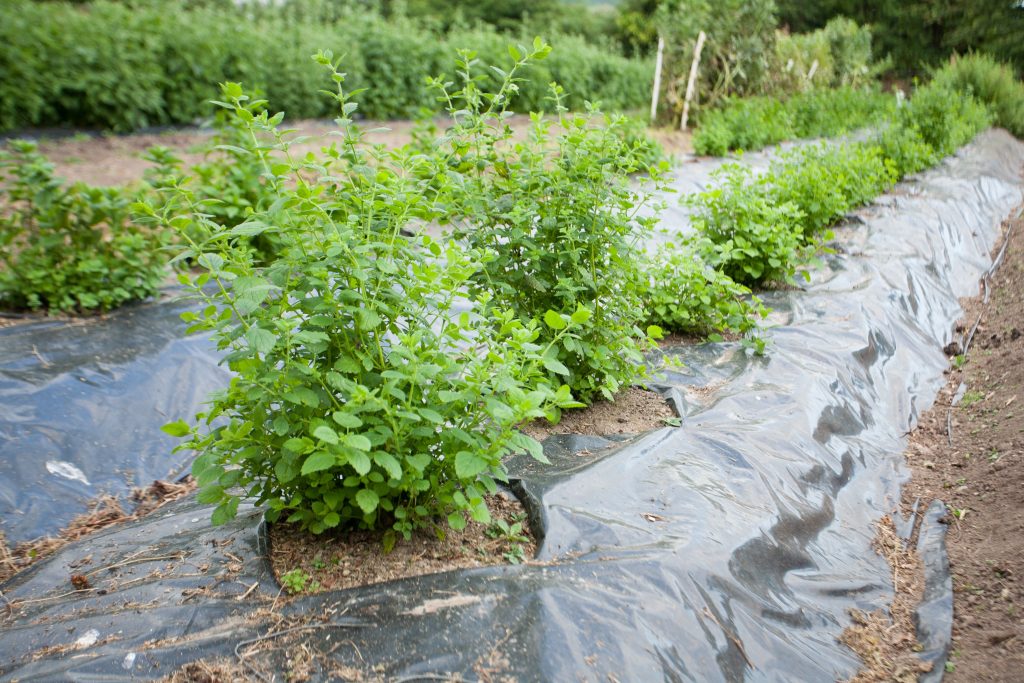 ABOUT
INTELLIGENT INGREDIENTS
Freda continues to forage herself and two Irish gardeners grow specifically for Intelligent Tea, with the remainder of herbs sourced from growers in EU countries.
Imagine growing and harvesting a field of nettles? "Yes it is certainly more challenging than cabbage and lettuce" says Freda who appears to be immune to stings herself.
All ingredients are chemical and pesticide free, with the mainstay certified organic. Intelligent Teas are hand blended by Freda. No preservatives are used.
ABOUT
OUR AWARDS
reat Taste are described as the world's most trusted food and drink awards. Whether 1-, 2- or 3-star accolade, Great Taste stars are highly respected seals of approval. It is wonderful to get these incredible endorsements of quality for our botanical brews, focused on a taste profile of excellence.
What do the stars mean?
★★★ Exquisite. Wow! Taste that
★★ Outstanding
★ Simply delicious
The stars of Intelligent Tea are Digest, Sinus Soothe and Single Estate Chamomile.
In 2019 Digest Tea was awarded 1-star.
In 2020 Sinus Soothe was awarded 1-star and Single Estate Chamomile was awarded 2-stars.